Heavy Duty Truck Recovery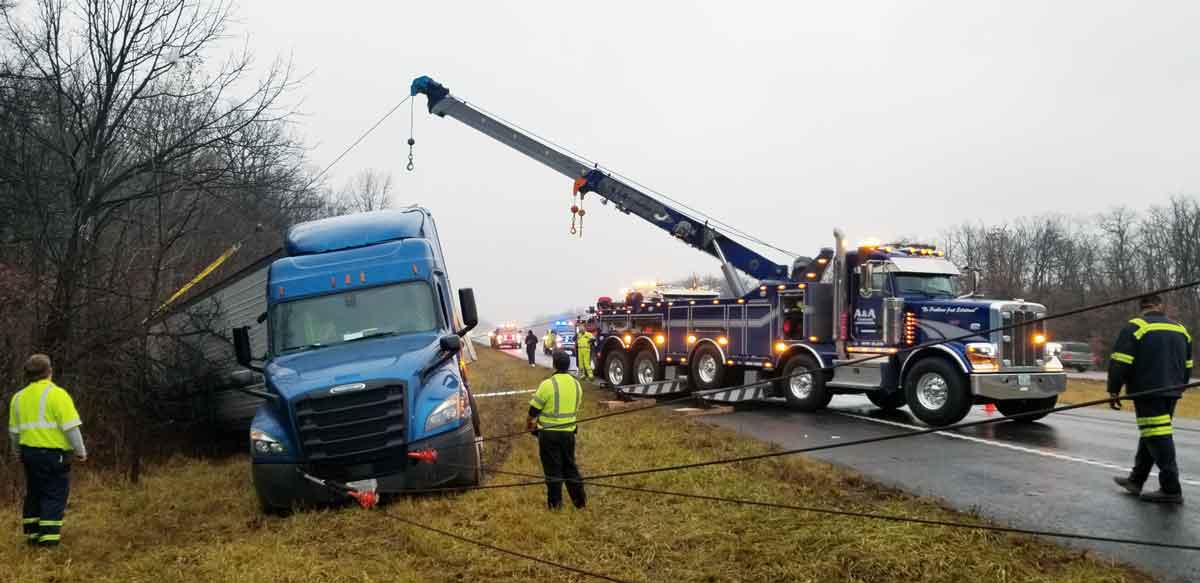 A & A Towing Services offers complete heavy duty recovery throughout Greater St Charles County MO and along I-64, I-70, I-270, US-61, MO-364 & MO-370. With a fleet of heavy duty wreckers, flatbed trailers and cargo clean up equipment, A & A Towing Services is your partner for heavy duty accident clean up in the St Charles County and West St Louis, MO area. They offer 24h heavy truck accident recovery, off-road winching, semi up-righting and load recovery. Their recovery services utilize the latest technology and equipment to ensure quick, safe and secure recovery of your asset.
St Louis heavy recovery services include recovery of large semi-tractors, tour/city buses, coaches, tractor-trailers, RV's, large fleet trucks, cube vans, single axle semi-tractors and storage units. They can accommodate requirements up to 100,000 pounds and can provide truck, trailer and cargo storage services. Contact their immediate dispatch service now to get the A & A Towing Services team working for you A.S.A.P.
Heavy Recovery Services Include:
Heavy Duty Recovery
Semi-Truck Accident Recovery
Semi-Trailer Towing & Storage
Medium Duty Truck Recovery
Heavy Duty Snow & Mud Recovery
HAZMAT Spill Cleanup
Heavy Duty Recovery
Off Road Semi Truck Recovery
Sunken Semi-Trailer Lifting
Decking & Undecking
Bunking & Unbunking
Construction Site Towing & Extractions
For Immediate Service Call the 24 Hour Dispatch Center Now at 636-300-9100
Air Cushion Recovery West St Louis MO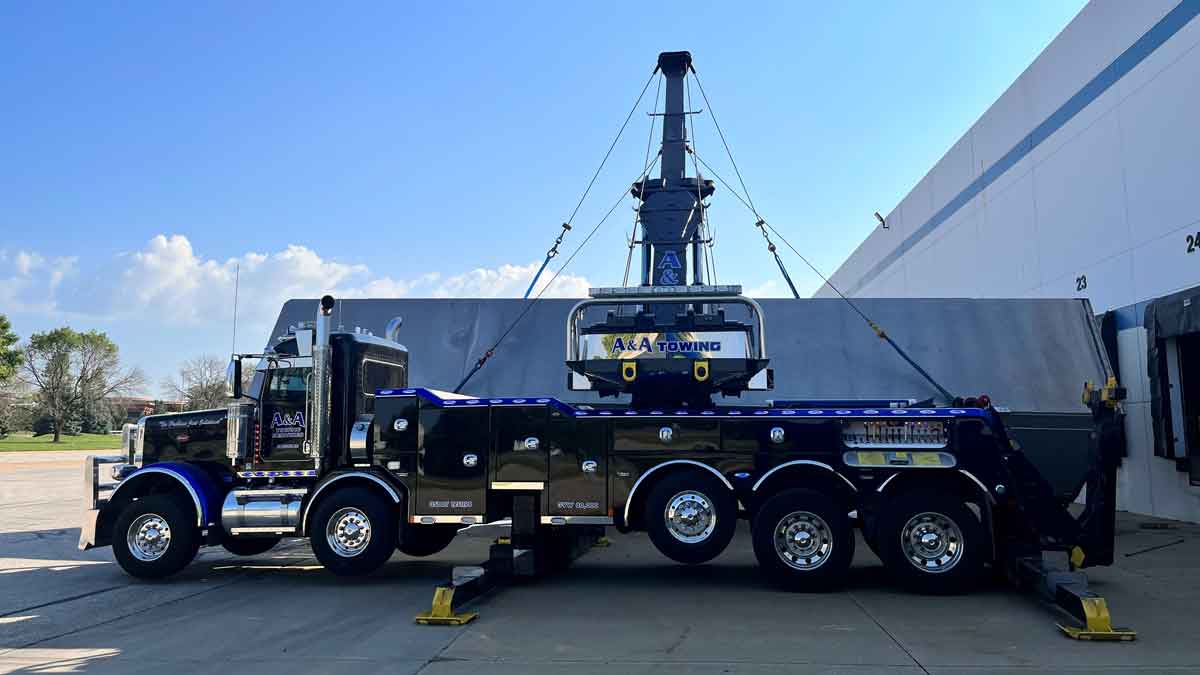 A & A Towing Services offers air bag and air cushion recovery throughout its service area. Air cushion recovery is an efficient and effective method of heavy duty truck, RV, bus and equipment recovery to expedite post-accident recoveries and minimize further damage to the vehicle. A & A Towing Services uses MatJack air bags and landing bags to ensure the best and most reliable material is used in your heavy duty recovery. Saving your company time and costly cargo handling charges, air cushion recovery often eliminates the need for unloading trailers or otherwise shifting cargo to ensure a safe heavy duty accident recovery.
Air cushion recovery is most useful for overturned semi-trailer recovery, underwater recovery and large equipment recovery and extractions. Call A & A Towing Services now to get their Air Cushion Recovery Team working for you.
Heavy Duty Service Area
A & A Towing Services provides complete 24hr heavy duty truck towing, recovery, heavy roadside and cargo services in the greater West St Louis area and along I 70 to Foristell, MO. They provide immediate heavy towing, cargo and recovery services to all points along I-64, I-70, I-270, US-61, MO-364 & MO-370 in West St Louis. They also provide immediate response services to all area transport hubs, manufacturing facilities and truck stops including:
Distribution Hubs In Service Area:
Aldi Food Distribution Facility in St Peters, MO
Coca Cola USA in Foristell, MO
Coca Cola USA in St Charles, MO
General Motors Facility in Wentzville, MO
Glazer's Wholesale Drug in St Charles, MO
Jefferson – Smurfit in Chesterfield, MO
Monsanto in Chesterfield, MO
Prairie Farms Dairy in St Peters, MO
Reckitt Benckiser Manufacturing in St Peters, MO
Rock Tenn Manufacturing in Chesterfield, MO
Sysco Foods in St Charles, MO
ThyssenKrupp Materials in Wentzville, MO
True Manufacturing in St Peters, MO
Trinity Products in St Charles, MO
Wainwright Industries in St Peters, MO
Truck Stops in Service Area:
Travel Centers of America in Foristell, MO I-70 Exit 203
Mr Fuel in Foristell, MO I-70 Exit 203
Flying J Plaza in Foristell, MO I-70 Exit 188